Strong Family Strong Communities - How We Deliver
Keeping Aboriginal culture at the centre

The AHO Aboriginal Cultural Framework underpins our commitment to placing Aboriginal culture at the centre of everything that the AHO does.  Elements of the framework includes:
the AHO Engagement Framework, which seeks to ensure respectful communication with clients, tenants, and the broader Aboriginal communities and the stakeholders we work with
the AHO Aboriginal Employment Strategy, which focuses on recruitment, support and development for Aboriginal staff
our commitment of the NSW Government's Aboriginal Participation in Construction Policy and Aboriginal Procurement Policy
identifying and measuring the impact we have on individuals, Aboriginal communities and the sector by using Aboriginal Impact Statements, surveys, consultation and feedback loops.
Our Aboriginal Cultural Reference Group provides cultural oversight of all aspects of our work, ensuring our business is culturally respectful, appropriate, responsive and in line with the AHO Aboriginal Cultural Framework.

With the Aboriginal Cultural Reference Group, we have begun reviewing feedback from staff and communities about how to strengthen our commitment to keeping Aboriginal culture at the centre of our work.
Accountability and Governance - Program Oversight
We developed an effective governance structure over the first four years of implementing Strong Family, Strong Communities.  We recognise, however, that there are opportunities to strengthen this structure in response to stakeholder feedback.  The following structure, will evolve as part of our commitment to reviewing how we work with Aboriginal community and government partners. 
SFSC Strategy Program Board
The SFSC Strategy Program Board has direct oversight and accountability of the implementation and operation of key Strong Family, Strong Communities programs.   Program Board members are from key government partner agencies including Department of Premier and Cabinet, NSW Treasury, Department of Communities and Justice and representatives from other across the Department of Planning and Environment.
AHO Board
The AHO Board's primary role is to determine AHO policies – that the Minister ultimately approves – which enable the AHO, as part of DPE, to implement and deliver accessible, affordable and quality housing strategies that meet the social and cultural requirements of Aboriginal people in NSW.
Regional Aboriginal Housing Committees
Regional Aboriginal Housing Committees support the AHO Board goal by providing local knowledge, monitoring program delivery, providing an effective means for reporting to local communities, linking with other relevant agencies and Identifying differing needs between and within regions.
Project Governance Executive Sub Committee
AHO's Project Governance Executive Sub Committee (PGESC) involved in operational matters, such as reviewing scope and budget changes during delivery.  The PGESC is made up of all the entire AHO Executive, including the Chief Executive.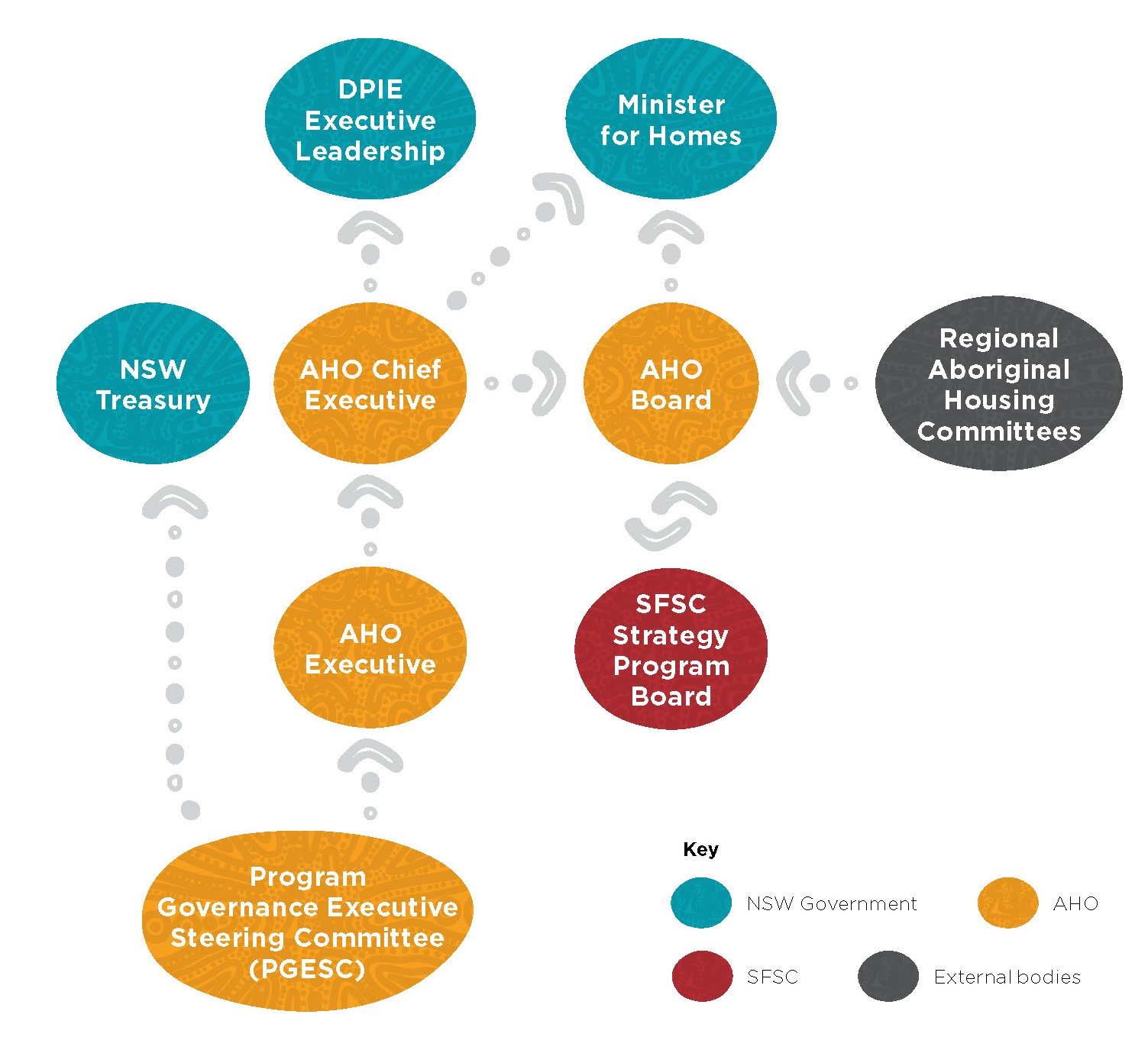 Demonstrating Change

We want to ensure that our work will communities makes lasting and sustainable improvements.  Our commitments under Pillar Four: Data and Evidence, focus on developing an evidence base of good practice.  As well as positively impacting on communities, this will provide the necessary base for future funding requests.  Regular quarterly reporting progressively paint a picture of the practical impact of our work.
The SFSC Implementation Plan contributes to a range of existing government commitments.  The following provides initial mapping of some these commitments against SFSC pillars.