What is a Growth Provider?
The AHO is committed to encouraging ACHPs to grow and strengthen their capabilities so more AHO properties can be managed by Aboriginal organisations that have a strong cultural understanding of Aboriginal communities and their needs. Aboriginal Housing Office Growth Providers was developed as a concept to identify suitable Aboriginal Community Housing Providers (ACHPs) who are looking to 'grow' their businesses. These organisations are ready to work in partnership with the AHO as Growth Providers. 
Our earlier EOI process (first and second rounds) has allowed the AHO to learn more about the sector's readiness and capacity to manage larger stock portfolios. In line with our Sector Investment plan and Strong Family, Strong Communities strategy we are looking at transferring the management of 1,500 AHO properties to Growth Providers by December 2022.
What are the key benefits?
AHO Growth Provider status means you may be eligible for future Property Management Transfers as part of the AHO's PMT project, and future funding and support opportunities as a partner with the AHO. 
Access to Capability Grants—they are designed to support ACHPs to achieve or maintain registration as well as support Growth Provider's to build capacity to take on additional property management. 
Growth Provider status can also help strengthen your organisation through capability and capacity support programs. We will look for key opportunities identified in your growth Provider assessments to assign the correct program to you. The purpose of the capacity building is to assist you in further developing and strengthening these areas of your business.
Growth Provider EOI Process
Rounds 1 & 2 of the EOI for Growth Providers have now been finalised.

The following Twenty-nine applicants are in discussions with the AHO to become Growth Providers and they will enter into formal agreements with the AHO once negotiations are completed: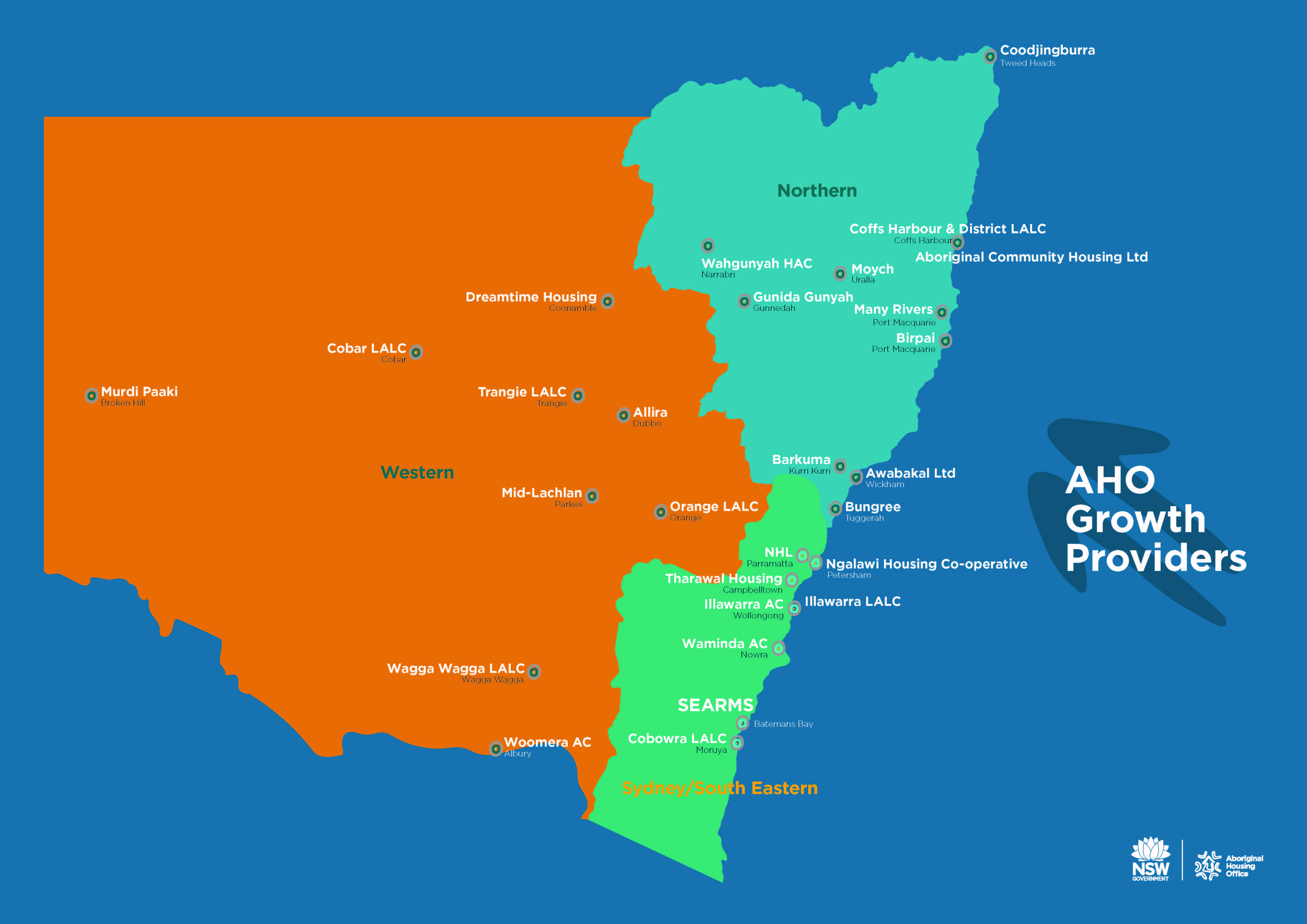 The 3rd Round Expression of Interest (EOI) has now closed.
Expressions of interest are currently being processed and the AHO will be in touch with providers in due course.
Further information
 
Capability Grants
Capability Grants are designed to support Aboriginal Community Housing Providers (ACHPs) to achieve or maintain registration under the National Regulatory System for Community Housing (NRSCH) or NSW Local Scheme (NSWLS) as well as support our Growth Providers to build capacity to take on additional property management through the AHO's Property Management Transfer (PMT) program.  
It is planned that the Sector Investment team will advertise for capability grant applications and seek supporting information on intended initiatives ACHP's are seeking funding for.
For more information about Capability Grants please email: [email protected]